Organic Hemp Seed Oil
Case of 12 8 oz. Bottle / Cold pressed / BUY NOW

$102.60 CDN 8.55 per unit

Organic Hemp Seed Oil
Case of 24 8 oz. Bottle / Cold pressed

/

BUY NOW
$182.40 CDN/$7.60pu
Organic Hemp Seed Oil
Case of 48 8 oz. Bottle / Cold pressed / BUY NOW

$360.00 CDN/$7.50pu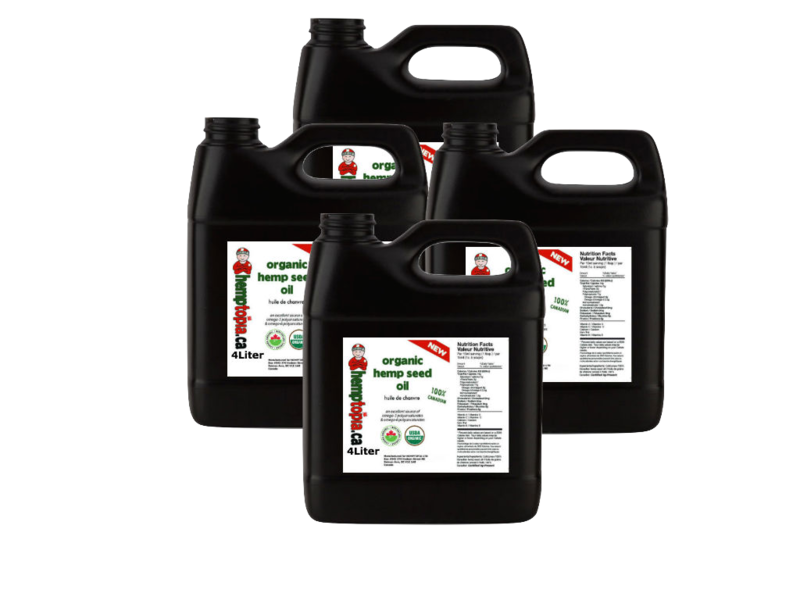 Our Organic
Hemp Seed Oil, Hulled Hemp Seed, Hemp Protein Powder & so much more, Is
100% Canadian Grown...
Features a light, nutty taste and can be used in a wide range of recipes including: sauces, dips, marinades and salad dressings. It also works beautifully added to protein shakes, baking or smoothies...And so much more.
Hemp Seed is a natural, whole food product that can be used in your daily recipes, consumed on its own as a dietary supplement, or applied topically as a moisturizing oil...
Our oil starts with Canadian hemp seeds specifically selected for their nutritional value and fatty acid profile, and are conventionally grown without the use of in-crop pesticides and herbicides.


Our hemp seed oil is extracted without use of chemicals, preservatives or additives and is cold pressed at temperatures below 50C. Packaged in an oxygen free environment for protection, high quality and optimum freshness.



quick Facts per 15ml/Tbsp
low in saturated fats 8g Omega-6
2.5g Omega-3
a source of polyunsaturated
fatty acids

Zero trans fat
Zero Cholesterol

trans fat & cholesterol free 10% vitamin E r.d.v


skincare: used on its own or in hand-made creams,
scrubs and topical treatments
pet care: mixed with their meal,

used on coats & skin.





55% Hemp / 45% Organic Cotton

T-Shirt 12 Pack (Natural) SATORI
Each Hemp T-Shirt 12 Pack Includes:

(2) Small, (3) Medium, (3) Large, (2) X Large and (2) XX Large Hemp blend T-Shirts in any one, of the many color options available. Priced to Empower: The Hemp T-Shirt 12 Pack makes for a perfect Instant, Eco-friendly Line of Merchandise for any business.
​Unit break down 16.87 ea/ MSRP $31.90 Purchase HERE

Colors Available